The summer is here, and so are the summer wedding trends and colours. One of the most most beautiful colour trends (in my opinion,) is the gorgeous Tiffany Blue. In search for inspiration on Project Wedding, I came across these lovely photos featuring my favourite colour.
Tiffany blue can spice up your wedding in any way possible; from a guestlist book, to favour cards to decorative presents featured at your wedding ceremony.
If you wish to make Tiffany the center of attention, why not feature Tiffany at the dinner reception, covering the whole table with this sexy spring colour?
Surprise guests when the food is presented by adding a touch of Tiffany to your wedding cake or dessert tray! And for all you brave brides who wish to fully involve Tiffany in your wedding ceremony, drape the bridesmaids in a lovely Tiffany inspired shade while they walk down the aisle before you say your wedding vows.
Thankfully on my Zazzle hunt this morning I came across a lovely suite of Tiffany and Cream Wedding Stationery peices that would be perfect for any bride inspired by this post. Customize these invites, invitational seals and thank you cards to your liking, to ensure that your wedding is the one of your dreams!
photo by: Marlene Munoz of Project Wedding
photo by: Neil Adams Event Resources of Project Wedding
photo by: Decadence of Project Wedding
photo by: Duane Peck Kristi Klemens Photography of Project Wedding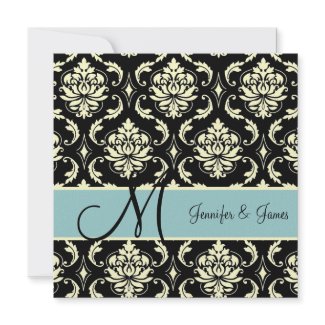 Tiffany & Cream Monogram Damask Wedding Invitation
by
monogramgallery
Browse more
Wedding Invitations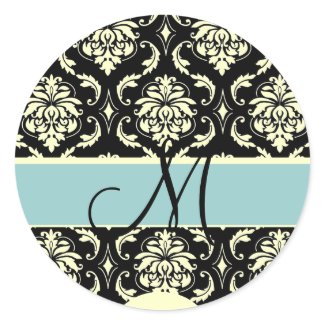 Tiffany & Cream Monogram Damask Wedding Sticker
by
monogramgallery
sticker printing
done with zazzle.com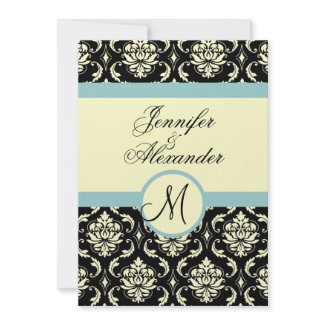 Wedding Monogram Damask Tiffany& Cream Invitation
by
monogramgallery
Get a
custom printed invitation
from zazzle.com
Just click on the image above to be linked directly to the online Zazzle store which sells this design. Follow the easy to use prompts to customize your product and then you can order as little or as many as you want. You can also keep your order on file and go back later and order more!!! Other great things about the Zazzle online supplier are that they are eco-friendly, they have great customer service and 24 hour turnaround time for most products. Also they are now selling direct in CANADA, EUROPE, UNITED KINGDOM and AUSTRALIA, JAPAN, GERMANY, SPAIN, BRAZIL,PORTUGAL AND FRANCE, so no import duty from the US!
White Whimsical Weddings. Copyright White Whimsical Weddings 2009. Customizable Wedding Postage and Stationery for All Occasions. Products Provided by Zazzle.com Affiliated blogs: http://whitewhimsicalweddings.blogspot.com/ http://extremedoglovers.blogspot.com/ http://littlewoodenhanger.blogspot.com/ http://strictlybusinesscards.blogspot.com/ http:/ultimatedisneyfan.blogspot.com/ http://zazzlepromotions.blogspot.com/