Friday, May 29, 2009
Posted by

JennieC
at 11:58 AM
0 comments

I couldn't resist. I was flipping through channels last night and happened to stumble across the episode of the hills before the season finale. And behold! I see Heidi choosing her wedding dress! Its a gorgeous dress from the
Monique Lhuillier boutique. This dress is truly beautiful, and she is stunning in it. I wish we could all have dream reality tv weddings!



Posted by

JennieC
at 10:20 AM
0 comments

Posted by

JennieC
at 9:56 AM
0 comments

Wednesday, May 27, 2009
Posted by

JennieC
at 10:38 AM
0 comments

Project Wedding
Perfect site to join up for FREE and create a customized wedding website from your perfect wedding!
Posted by

JennieC
at 9:40 AM
0 comments

Monday, May 25, 2009
I recently stumbled across an article in Harper's Bazaar, the June issue. It was about a young woman's journey to find a gorgeous wedding dress in a different shade than the tradition white. The dress is a blue teal colour, perfect for a spring wedding. This got me thinking, why does the wedding gown always have to be traditionally white? Yes, it is a tradition, but on a perfect summer day, can't the bride have a little fun in the sun? I say yes. This colour is magnificent and I encourage all brides to be to decide if they wish to have a little fun with their wedding and add a splash of colour.
My fascination with the site ZAZZLE.com has caused me to constantly search new items posted to look for great new picks and deals. I happily came across this item, and coincidentally, it happens to be almost the same shade of blue as this wedding dress! I thought it would be great to pair up wedding dress colours with wedding accessories. Click on the image to customize!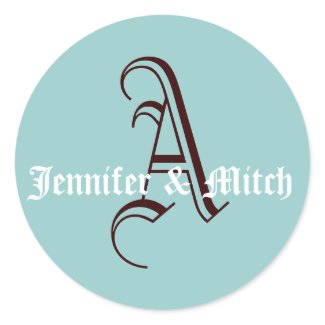 Posted by

JennieC
at 10:24 AM
0 comments

Wednesday, May 20, 2009
Recent items of popularity from the hit customizable accessory webpage, www.zazzle.com.
From the
MonogramGallery
From the
WeddingCentre
Posted by

JennieC
at 5:36 PM
0 comments

In these tough times everyone has one thing on their mind, and that's to save money. People have started using the words CHEAP and CHIC together and tried to find a reasonable combination of both. However, everyone woman in love still wants to have the perfect wedding she's always dreamed of. And with some women, they have dreamed of their wedding since they had their first crush when they were sixteen. But now, they hit a brick wall at an incredible speed. A recession crisis has come between women in love and their perfect wedding! However, fear should not be felt yet. We have come up with some easy solutions to this irritating speed bump, and we're willing to share them with you! Dream weddings are our passion and it is our mission in life to guide you through the hurdles and obstacles of the somewhat dreary reality present in our society and have you safely arrive at the destination of your dream wedding.
Posted by

JennieC
at 5:13 PM
0 comments